ESR (Economic Substance Regulation) compliance was introduced in the UAE through Cabinet Decision Number 31 of 2019. This decision was made to implement ESR in the country and to build the financial structure of the nation.
Process of ESR compliance in UAE:
Most of the companies in the UAE are unaware of the complete responsibilities related to compliance. It may lead to many issues.
To solve this issue, many consultancies in Dubai offer ESR compliance. ESR compliance in UAE has helped the companies and clients. UAE ESR compliance assists the clients in meeting their regular assessments at ease. 
The essential steps or processes required by every company to meet the regulations of ESR are listed below:
Stage 1: Notification 
Stage 2: Annual Substance Return 
Requirements For ESR Compliance in UAE: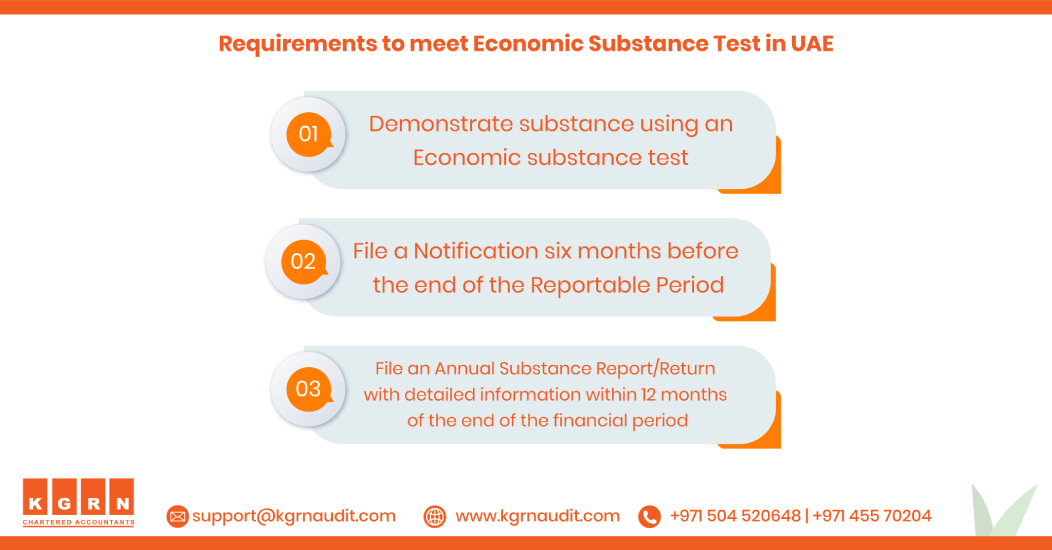 The most important task that every company under ESR must follow is reporting.
Apart from the basic requirements of notification, the companies involved in a Relevant Activity should report to the authorities.
The reporting requirements include the following:
The location of the business

The amount and types of expenses for operating and managing the relevant activities

Particulars about the employees in numbers and working hours

CIGA- Information about the Core Income/Profit Generating Activities 

Declaration paper that a business is licensed and satisfies the ESR test in UAE.
Who must submit an Economic Substance Notification?
A business-man with a license, undertaking one or more of the following Relevant activities and Core Income Generating Activities during the relevant year should file a Notification with the Registration Authority. They are: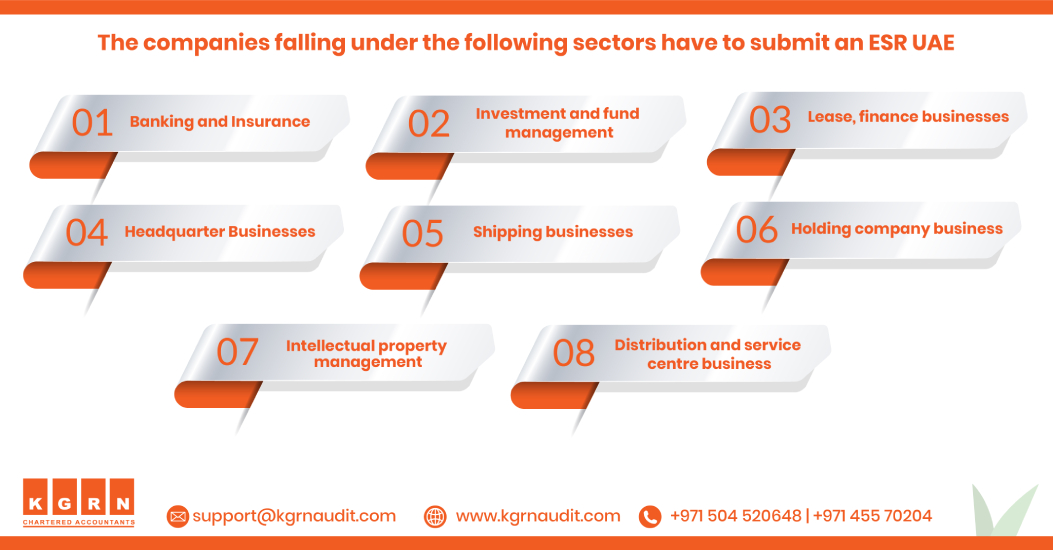 Banking and insurance businesses

Investment Fund Management Business

Lease-Finance Business

Headquarter Business

Shipping Business

Holding Company Business

Intellectual Property Business

Distribution and Service Centre Business
What Are the Penalties for Non-Compliance?
Non-compliance with the ESR or any inaccurate information may result in administrative fines for the company.
It is important to note that the licensing authorities may even suspend, deny the renewal of your commercial license if the fines are unpaid. 
Advantages of ESR compliance:
It enhances the goodwill of the company.

It results in fair competition.

ESR compliance UAE helps and supports the nation's economy.

It also prevents tax-related issues in the country.
Thus, KGRN will assist you in the ESR UAE filing and will meet your requirements at ease.
For more Detailed information about ESR, Visit: Economic Substance Dubai Guidelines
For enquiries, call +971 45 570 204 / E-mail: support@kgrnaudit.com
Please follow and like us: