Business Process Restructuring Services In UAE

Business Process Restructuring Services:
An essential aspect of running a successful business is ensuring that the organization stays flexible and agile. International markets and the economies of supply-and-demand can undergo massive fluctuations from time to time. To survive, a company must be able to navigate through its troughs and peaks by staying flexible and nimble. That is why, of late, several business advisory firms offer Business Process Restructuring services now. Here's a look at why Business Process Restructuring Services In UAE are gaining momentum, and how KGRN can help achieve such a flexible structure.
What is Business Process Restructuring?
Business Process Restructuring is the process that allows companies to review, analyze and redesign their workflows and operational structure to improve efficiency and productivity. Such reviews help in establishing a mobile and agile operational infrastructure that allows companies to scale as per the requirements of the market. Furthermore, it eliminates redundancies, removes tasks that do not add value while optimizing end-to-end processes. Business advisory and consultancy firms offer such restructuring processes to help both internal controls and productivity of systems and organizations.
For enquiries, call +971 45 570 204 / E-mail: support@kgrnaudit.com
Benefits of Business Process Restructuring in the UAE:
1. Redesign workflows to ensure the timely delivery of services
2. Identify gaps within the control processes and internal communication systems to ensure an increase in the overall efficiency of the company
3. Cut back on administrative costs and other expenses, helping you to use those resources for more critical tasks
4. Save time and effort, which you can then utilize to finish and execute more vital tasks, such as growth and expansion of the business.
5. Eliminate non-value adding services in a bid to save redundant costs
6. Provide a benchmark to your business processes, and establish a standard operating procedure for business operations
7. Enhance the overall governance and monitoring of internal controls of your organization
For enquiries, call +971 45 570 204 / E-mail: support@kgrnaudit.com
Steps Involved in Business Process Restructuring in the UAE: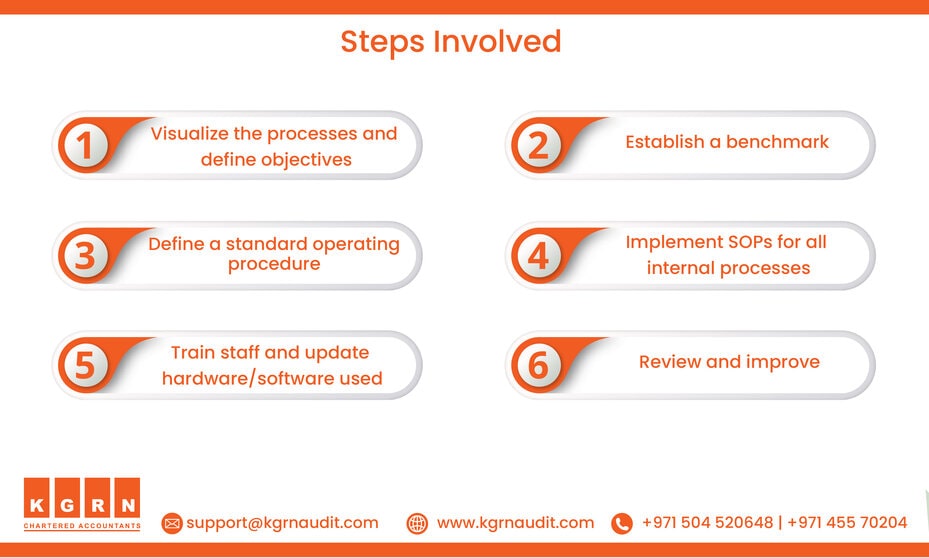 The following are the steps that help businesses implement business process restructuring:
1. Focus on the Customer and the process in question to maintain maximum customer satisfaction.
2. Visualize the processes and establish a benchmark to set a quality standard to define a standard operating procedure or SOP for each internal process.
3. Using this, experts will define an objective and overall framework to oversee the implementation of such an SOP.
4. Experts will also have to ensure that they identify and factor all customer needs before making changes to the business processes to ensure satisfaction.
5. Next, there will be a thorough study done regarding the processes in place, which will help the advisors gain a deeper understanding of existing SOPs.
6. Keeping all this in mind, the experts will formulate a full-proof business plan that will factor all these variables and create an agile system.
7. Next comes implementing the redesign, which requires training and development of the staff involved.
8. It might also need you to update the hardware and software you currently use to remove redundancies and inefficiencies related to the infrastructure in place.
9. Lastly, the experts will review the system in place to ensure that it meets all the requirements and fulfils the criteria listed earlier.
For enquiries, call +971 45 570 204 / E-mail: support@kgrnaudit.com
KGRN Business Process Restructuring Services in the UAE:
KGRN is a world-renowned business consultancy and advisory firm based in the UAE that provides a plethora of services related to running a business. They have a highly qualified team of professionals who have decades' worth of experience in dealing with economic and finance-
related problems and queries. KGRN offers high-quality business process restructuring services to help businesses manage complex control systems and nail them accurately and efficiently. We also help businesses improve their overall operations, expand processes, and cut down
redundancies significantly. Here's a look at the various Business Process Restructuring Services KGRN offers In the UAE;
1. Help with internal remodeling processes to eliminate redundant layers.
2. Improve effectiveness and estimate the costs related to newer product lines and services
3. Do a review of production activities to identify inefficiencies within the system
4. Run a check of the financial aspect of production and suggest ways to achieve cost saving
5. Create a more agile and flexible system that can adapt to changes in the market
For enquiries, call +971 45 570 204 / E-mail: support@kgrnaudit.com
Why KGRN?
● We have a simple, yet elegant and business-friendly approach that leads to a quick resolution of all issues and queries
● We help prevent and reduce wastage of resources, unnecessary overheads leading to a leaner and more refined internal system
● KGRN improves the accumulation, processing, storage, protection, and utilization of data that aids in decision-making
● Get a comprehensive analysis of all your business processes and operations to identify gaps inefficiency.
● Mitigate the risks involved in running a business by having our experts go through your fiscal reports and statements
For enquiries, call +971 45 570 204 / E-mail: support@kgrnaudit.com