Accounting Firms in Dubai- KGRN
Accounting Firms in Dubai: Accounting is all about the procedure that helps to record, summarize, analyze, and report data that concerns financial transactions.
Accounting is all about the word ALOE. Here is what the abbreviation, "A-L-O-E" means.
·         A – Assets
·         L – Liabilities
·         O E- Owner's Equity
This is one of the basic ideas of accounting. The equation for the same drives like this:
Assets = Liabilities + Owner's Equity

Advantages of Accounting Firms in Dubai, UAE

Maintaining Records
Accounting firms in Dubai takes the responsibility of keeping the records of all the transactions made within a firm.
Profit and Loss
Business is directly relative to profits. It is all about getting profits. The accounting chart of profit and loss regulates whether there is a profit or loss made in the business. The income and spending decide profit and loss.
Utility of Resources
Resources are a very vital part of any organization and for a firm to function easily, they play a important role. The records hold the responsibility to report to the firm about the various activities along with its effectiveness. Hence, it becomes easy for the organization to take note of the particulars before putting in the money.
Estimation of Financial Position
A business person is not only involved in knowing the Profit and Losses of his business but he also needs to know how much he repays to his creditors and how much he has to pay to his debtors. For this purpose, he organizes a statement in which all such details are recorded. This statement is identified as Balance sheet. With the help of Balance sheet financial situation of the business can be understood.
Helps in Decision Making
With the help of all the records that have been preserved by following Accounting Measures, Decisions can be made with all those data which finally helps in the smooth working of the organization.
Types of Accounting Firms in Dubai
Public Accounting
Accountants who are not completely tied to a single company are the ones that perform Public accounting. Some of the procedures involved in public accounting are preparation, review, and audit of financial statements, tax preparation, and consultation or advisory services. This type of service is frequently performed by Certified Public Accountants (CPA).
Management Accounting
Management accounting is a procedure wherein accounting experts analyze past and present accounting data to create an effective and efficient business model for their client. Some of the procedures under management accounting contain budgeting, asset management, cost management, and performance evaluation.
Management accounting is also identified as advisory services. Its main function is to increase the client's use of its capabilities and resources to achieve the goals of the organization.
Governmental Accounting
The leading finance body in any country is the government itself. That is why it should be no wonder that particular types of accounting services are framed to provide to its needs. Accounting bodies formed government accounting to grab specific issues present in the government that is not in businesses.
The main objective of this outsource accounting in Dubai is to support government sectors properly budget and assign their resources, making sure that each decision to both local and national law. Hence, this type of service is one of the most elastic due to variable laws per locality.
Bookkeeping Service in UAE
Accountants reflect bookkeeping as one of the most basic accounting and bookkeeping services in Dubai. It is often the principal step in the planning of financial statements since it contains the recording of business transactions of the entity. Many small and medium enterprises make use of this service since it is knowingly inexpensive and simpler in comparison to other services.
Tax Accounting Service in UAE
Tax accounting is a service dedicated primarily on the business's tax liabilities or claims. It is another accounting service that is seriously affected by local and national codes. A country's Internal Revenue Code regulates how an accountant applies tax accounting to a company.
Forensic Accounting
Forensic accounting can be linked to auditing; however, its main motivation is to detect malicious fraud. Forensic accountants are essential to have an in-depth knowledge of laws that could help them determine harms by concerned parties. Law implementation agents often use this service when investigating financial related crimes.
Other Accounting Services of Accounting Firms in Dubai
Accounting & Financial Reporting
Corporate Finance
Valuation & Financial Restructuring
Accounts Outsourcing service
Accounting Software Solutions
KGRN Accounting Firms in Dubai, UAE steps follows
The three different ways of accounting steps are:
·         Putting up an arrangement that will help in maintaining the records.
·         Tracking financial transactions.
·         Combining the reports to present a final set of financial reports.
Our Accounting security and confidentiality
When you outsource accounting services, you will have whole control of permission levels and access levels of your staff to the online records. The KGRN has guaranteed secure encryption that encrypts all your transactions. Accounting and bookkeeping service providers have high-level security methods in place with controlled access to authorized staff. Most servers are positioned outside to address security concerns.
Benefits of KGRN Accounting Services in UAE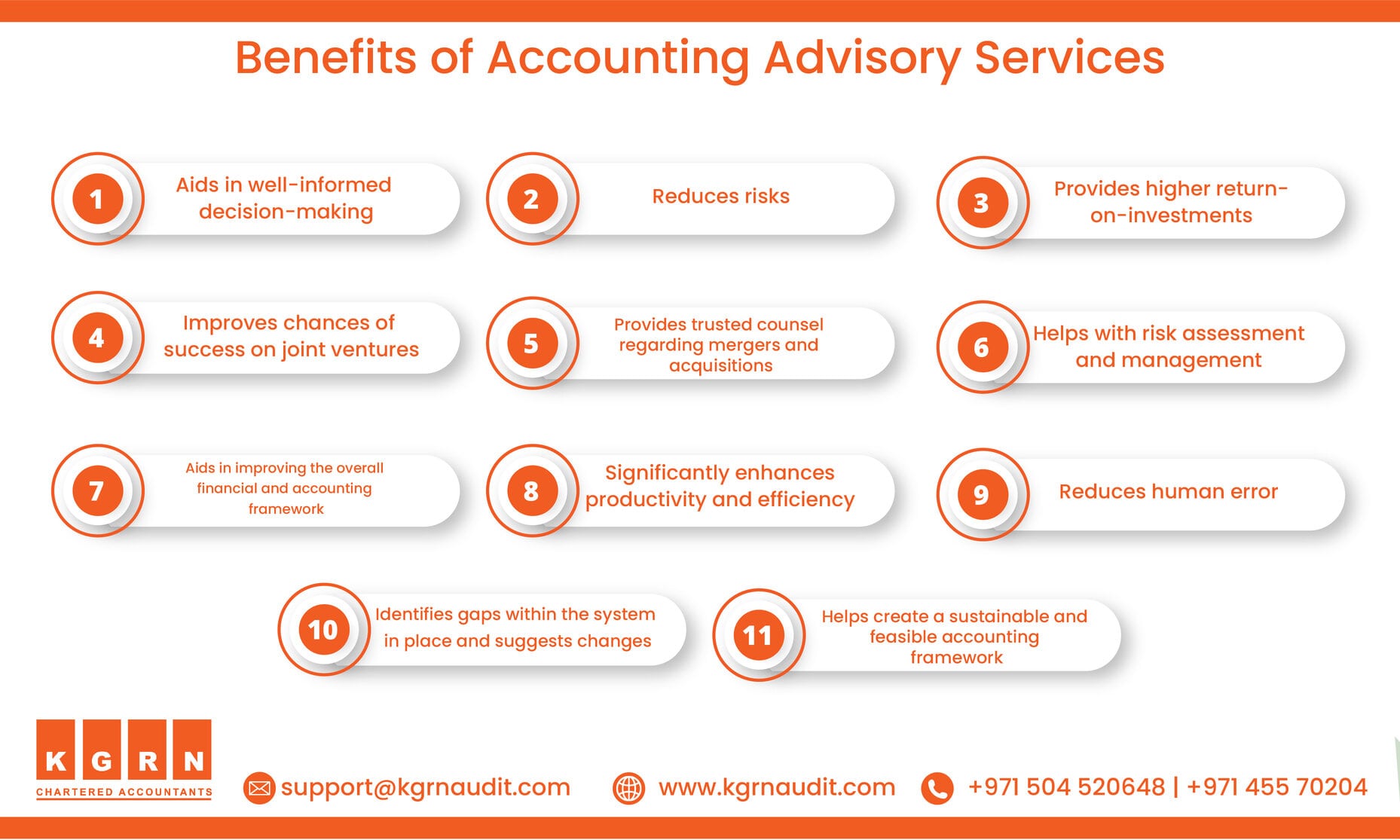 We can deliver the most dynamic bookkeeping solutions at realistic rates. Our well-designed cloud accounting in Dubai will support you with reducing costs and would deal with your books expertly.
Our highly qualified and experienced accountants are well experienced with accounting applications including XERO, Quickbooks Online, Clearbooks, Kashoo, SAGE Online, WAVE, and several other prominent bookkeeping applications.
With cloud-based accounting applications, being special of today's businesspersons, we guarantee that our team is well experienced using such accounting platforms and add-ons that maintenance use of such applications like Receipt Bank, Shoeboxed, and integrators that link various sales platforms with such accounting applications.
Why KGRN Accounting Firms in Dubai?
KGRN Accounting Services in Dubai is to deal with fundamental financial duties. Accounting companies in Dubai, UAE pursue bookkeeping firms set by the Securities and Exchange Commission (SEC) and following Generally Accepted Accounting Principles (GAAP). The SEC requires accounting companies to procure external audit firms to review their financial summaries.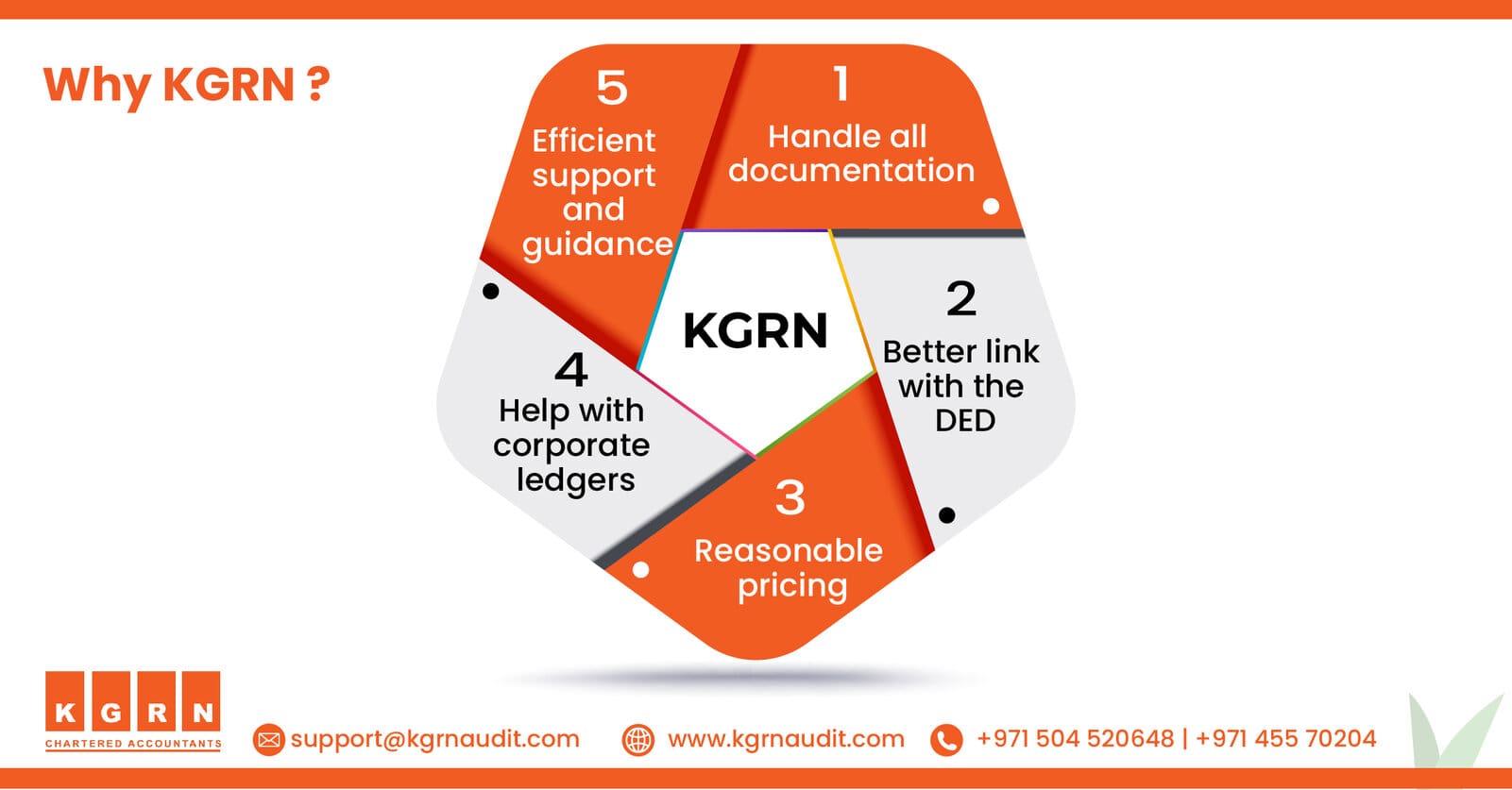 Accounting Services in Dubai have practical experience in other money-related errands, for example, tax, consulting, mergers and acquisitions, and forensic accounting. The sorts of bookkeeping firms required by a business rely upon their bookkeeping and accounting needs. It is essential that the company ensure its understandability, reliability, comparability, relevance and a well-structured presentation of the financial information and the same should highlight and fair view of the affairs state company.
Some of the other biggest accounting firms in Dubai areas that we use our proficiency in are as given below program.
Accounting System Design and Implementation
Bank Statement Settlement
MIS Reports
Accounts Payable
Cash Flow Statements
Preparation of Profit and Loss Account
Preparation of Balance Sheet
Financial Analysis
Advantages of KGRN Accounting Firms in Dubai UAE
We have a dedicated team of accounting companies in dubai specialist which provides the following services:
bookkeeping services
Preparation of accounting reports
Compilation of financial information
Budgets, forecast, and financial modeling
Preparation of a business plan
KGRN Accounting Firms in Dubai, UAE  offers
Accounts receivable services
Accounts payable services
Bank account reconciliation
Invoicing Processing Services
Manual Journal Entry Services
VAT returns
General ledger maintenance
Assets/equipment ledger maintenance
Expenses ledger maintenance
Preparing accounts receivable reports
Preparing accounts payable reports
Preparing ageing reports & summaries
Credit card reconciliation services
Preparing financial statements
Trial balance services
Preparing income statements (Profit & Loss)
Balance sheet services
Preparing sales reports
Preparing purchase reports
Cash flow statement
Entry of transactions
Inventory services
Accounting setup services
Day-to-day bookkeeping and accounting
Books balanced and reconciled quarterly
Management accounts produced quarterly
Annual accounts and tax returns preparation
Submission to Inland Revenue
Submitted to Companies House
Expert tax advice to minimize tax liability
Adjustments to year-end accounts
Storage of documents at our offices