About Accounting services in Dubai
Accounting services in Dubai are an integral part of the country's economic infrastructure. Accounting firms in Dubai help companies manage their financial records and ensure they maintain compliance with Emirati laws. Without accounting companies in Dubai, businesses would not be able to manage their cash flows, make financial predictions and take the right business decisions. Additionally, accounting services in Dubai also help businesses understand the market around them, and make decisions that help improve their profit margin. Hence, such accounting and bookkeeping services in Dubai are vital to the successful running of any operation. But, what exactly do accountants in Dubai do? Let us take a closer look at the best accounting and bookkeeping companies in Dubai, and why they are so useful.
What KGRN Accounting services in Dubai offer?
KGRN Chartered Accountants offer one of the best accounting services in Dubai. Our team of legal and finance experts have decades' worth of experience in the field of accounting and bookkeeping. Hence, our accountants will be able to provide tailor-made services that meet every need or requirement your business might have. Additionally, our services are incredibly flexible and scalable, ensuring that your business remains free to grow and expand. Hence, our accounting services Dubai wing offers businesses a chance to expand to new markets and become as successful as possible. Our experts also provide excellent advice that helps these companies reach their full potential.
Why KGRN for Accounting services in Dubai?
Let us now take a look at why accounting is an indispensable part of running any business. No business can survive without guidance and assistance from financial experts and chartered accountants. All businesses need to depend on accounting and bookkeeping companies to ensure their financial history remains up-to-date and accurate. This helps companies manage their taxes, understand the market and make the right business decisions. Additionally, KGRN accounting services also provide help with regards to onboarding the required accounting software. 
Without professional help, businesses might end up getting swindled and cheated by their suppliers and vendors. Accountants can therefore help guide businesses through their financial journey, also helping maintain records on all transactions made. Financial analysis is another vital part of accounting that helps companies forecast or create projections of their earnings and expenses. Such growth projections help companies understand the market and make the right decisions.
KGRN Accounting Services team in Dubai, UAE
KGRN and most other accounting firms in Dubai offer the following team services in the UAE;
Tracking of business expenses to understand the business's spending and earning. 

Help with maintaining proper records of all financial transactions made

Enable businesses to calculate their tax liability and help them file the required returns

Serves as the backbone of the business by providing the required financial details and analysis

Accounting companies in Dubai also help businesses remain compliant to Emirati laws
KGRN Accounting services in Dubai: Unique Features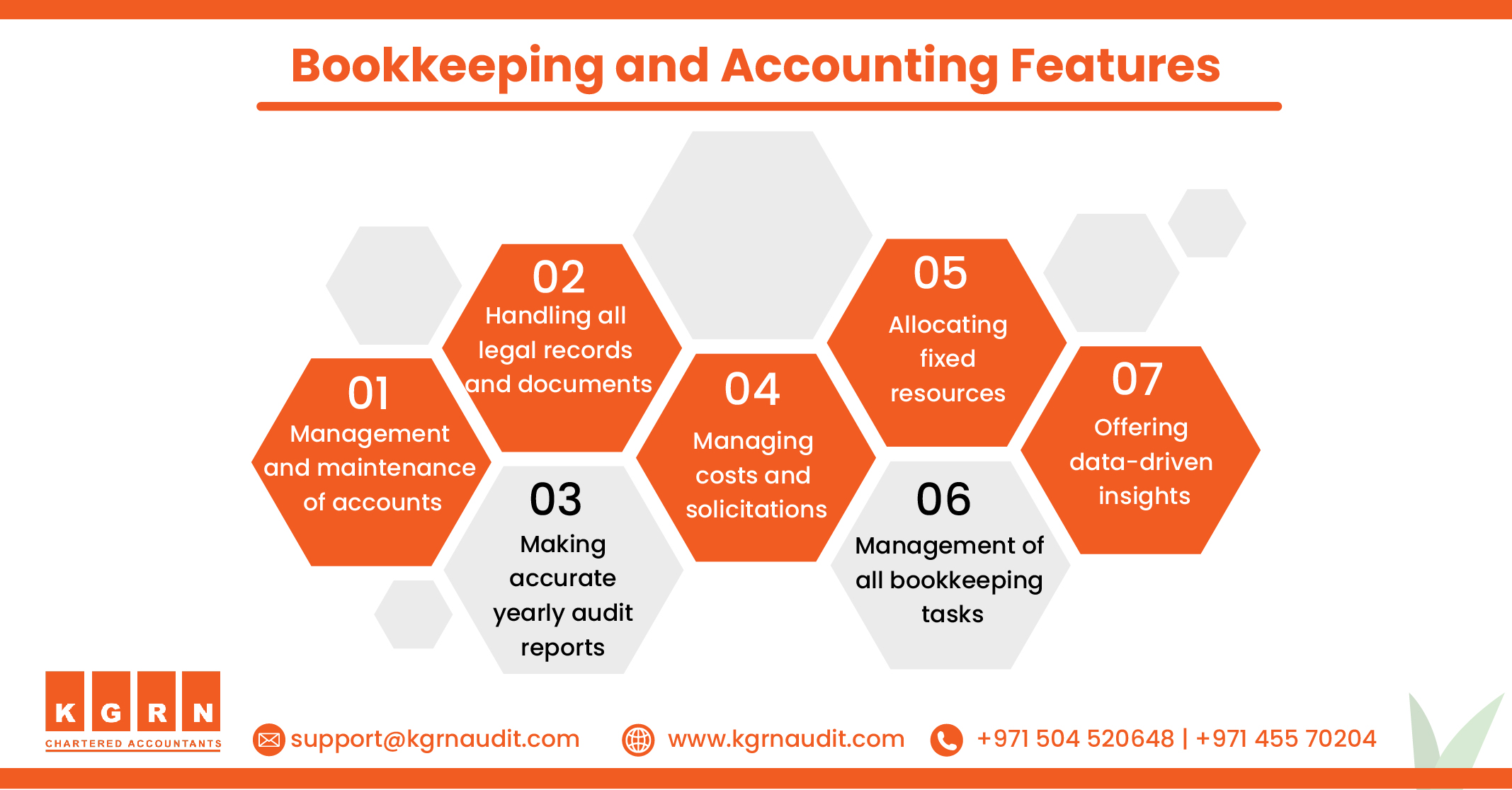 The most common accounting services Dubai offered to companies are as follows;
Bookkeeping services that are either IFRS or GAAP-compliant.

Accounts payable service 

Maintain records of payments and invoices

Monthly bookkeeping services and tracking of transactions.

Reconciliations of accounts

Preparing financial reports 

Reviewing and checking the Income Statement, Trial Balance and Balance Sheet

Business Valuation services at the time of acquisitions and mergers 

Help with asset valuation and forecasting.
Most companies will have to provide documents for conducting the due diligence procedures.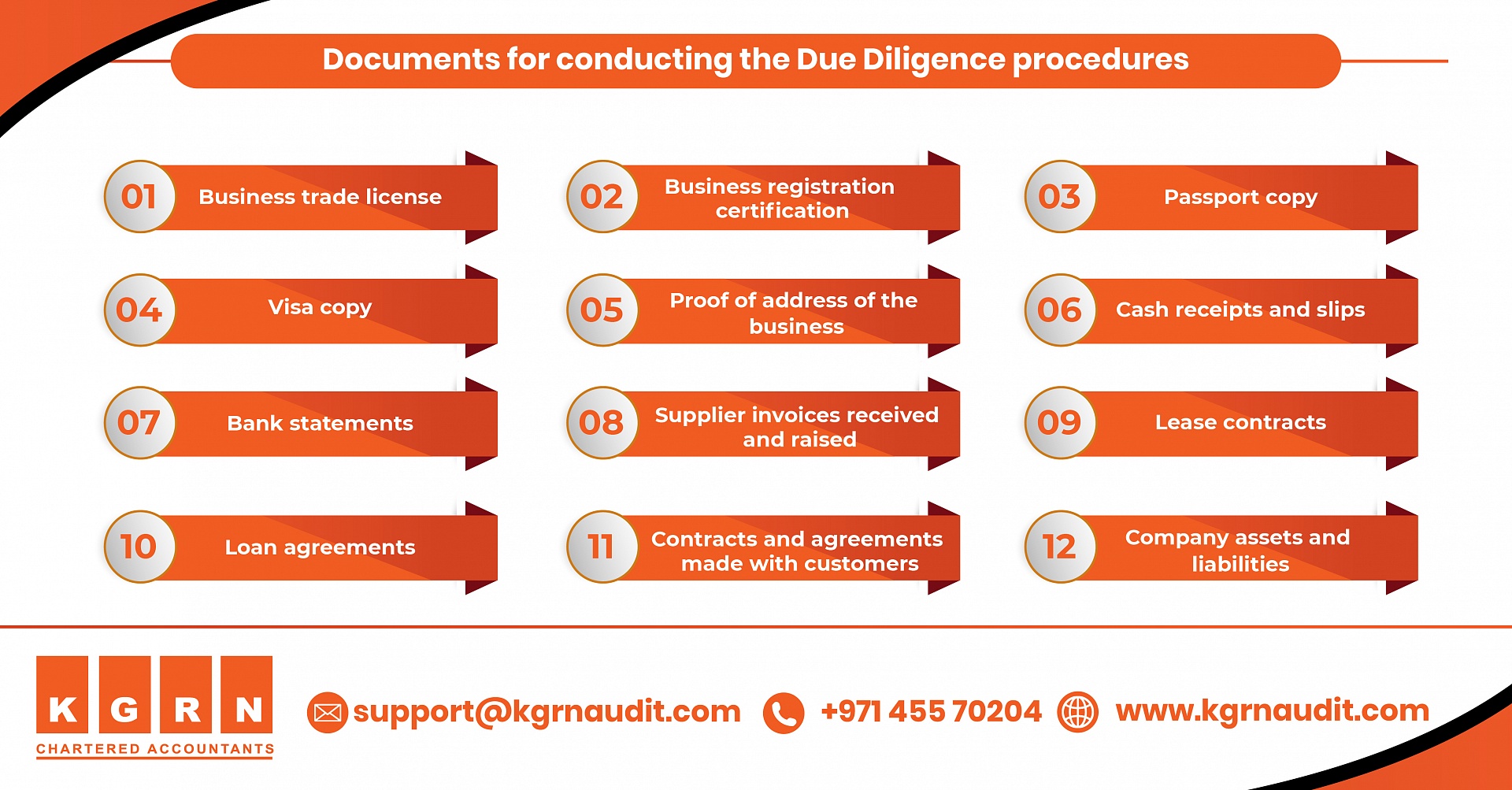 Business trade license 

Business registration certification 

Passport copy

Visa copy 

Proof of address of the business

Cash receipts and slips

Bank statements

Supplier invoices received and raised

Lease contracts 

Loan agreements

Contracts and agreements made with customers

Company assets and liabilities
KGRN Accounting services in Dubai highlights
Accounting and bookkeeping services in Dubai, such as KGRN are excellent at providing the advice required to help businesses make the right decisions. Here's a quick look at how accounting companies in Dubai like KGRN can help companies manage their business.
Help with promoting your business in various ways, helping you gain more customers

Introduce you to advanced technology that will help revolutionise and automate your business

Help companies stay VAT-compliant and enable them to manage their taxes.

Help with preparation of important financial statements, such as Balance sheets, cash flow statements and income statements

Access to financial analysis that will help attract more investors and creditors

Benefits of Accounting Services in Dubai
KGRN is one of the best accounting and bookkeeping companies in Dubai, and working with us offers the following benefits.
We provide the most cost-effective accounting services in Dubai.

Businesses can enjoy lower operational costs since they pay only for the services they need.

Fully flexible accounting services which suit the needs of every company.

Scalable services that enable companies to grow and expand to new markets.

Save valuable time and effort by working with our experts

Outsourcing to us leaves you with enough time to focus on more critical tasks

Leverage expert knowledge to make the best business decisions

Receive high-quality services at all times, leading to higher efficiency and productivity

A transparent, accurate and secure system that promises the best results.
When should you outsource to accounting firms in Dubai?
Here's a quick look at the circumstances in which companies must outsource their accounting needs to external accounting companies in Dubai.
Start identifying inaccuracies or inconsistencies in your accounts 

Fast business growth that makes in-house accounting too slow

A requirement of faster processing speeds and better financial analysis

Spending too much time on accounting activities leaving little time for the rest

Failure to meet regulatory compliance leading to fines and penalties 
Once you realise your in-house accounting team can no longer handle your needs, businesses must reach out to an expert, such as KRGN Chartered Accountants.
KGRN for your Accounting services needs
The primary accounting functions that KGRN can help you with are as follows;
Bookkeeping services 

Reconciliation of Bank Statements

Preparing Invoices, statements and other financial documents

Monitor and track orders, assets and liabilities

Manage your receivables, payables, bills, receipts and invoices 

Human Resource Services and Payroll Processing

Internal Auditing 

Tax Management and Consultancy

VAT Registration Services
So, what are you waiting for? Partner with us, at KGRN Accountants, to step into the future of accounting, and solve all your finance-related woes.