ESR in Dubai: Over the last few years, Dubai has financially developed a lot and doing business has become a lot easier. Regulations such as Value Added Tax (VAT) and Anti-Money Laundering (AML) have been introduced to make sure there is strict compliance to tax policies set by the government. Along these lines, ESR (Economic Substance Regulation) has been introduced to increase the levels of compliance. This step was taken to ensure that the taxation policies in the UAE are complying with global standards set by OECD (Organisation for Economic Co-operative Development). This was done to prevent any practices of tax evasion. ESR demonstrations need to be done by companies who are doing relevant activities in Dubai to ensure ESR UAE compliance, by either mainland, free zone or offshore companies. In UAE, ESR notification UAE came into force on the 30th of April 2019, and guidance on the regulations were introduced on 11th September 2019. Further amendments were made to ESR Legislations on 10th August 2020. ESR applies to all legal companies and entities that carry out 'Relevant Activities'. Relevant Activities include business-like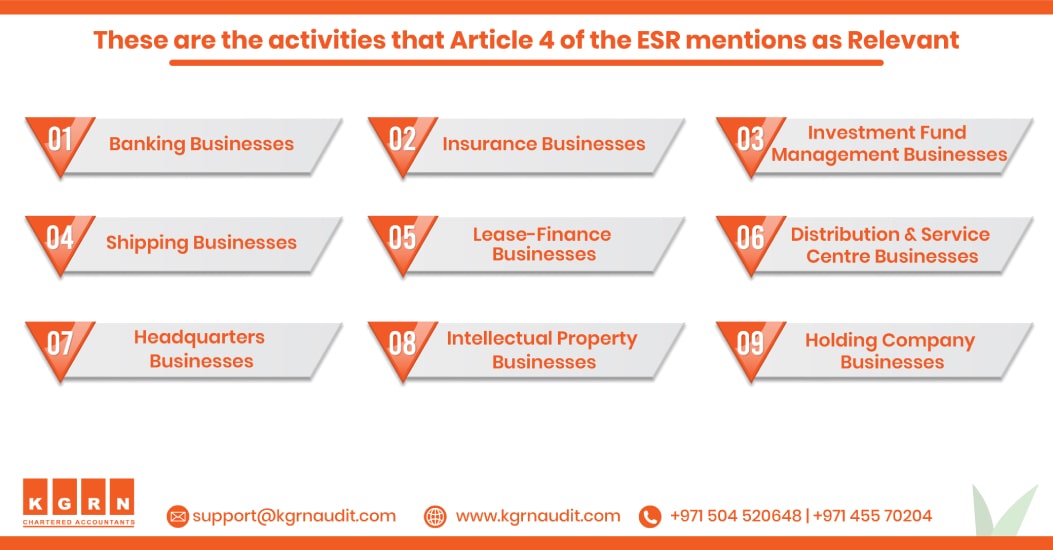 Banking Business

Shipping Business

Distribution and Service Centre Business

Insurance Business

Headquarters Business

Lease-Finance Business

Investment Fund Management Business

Intellectual Property Business

Holding Company Business
The only companies who are exempt from filing an ESR Form UAE are the following. They are also known as Exempt Licensees.
Companies that are deemed to be tax filing or tax resident outside the UAE

Investment Fund companies

Companies that are owned by residents of UAE, and that are not part of any MNCs or they carry out business only in the UAE

A foreign company whose income is taxed by a jurisdiction outside UAE
Exempted Licensees need not file an ESR Report, but need to file an ESR Notification Form UAE to verify their exempt status.
For more Detailed information about ESR, Visit: Economic Substance Regulations(ESR) Guidelines
Related Information
Economic Substance Regulations UAE Notification
Our Services
ADNOC ICV Certification Agencies
For enquiries, call +971 45 570 204 / E-mail: support@kgrnaudit.com