Corporate Finance Consulting Services In UAE

Corporate Finance Consulting Services:
Business owners need to be ready for all kinds of changes in the business environment. As a result, every business decision you take needs to be well-informed and analyzed to ensure you mitigate all the risks associated with it. Corporate Finance Consulting Services help companies
raise capital, perform restructuring activities, and ensure financial feasibility. In effect, such services help firms ensure that every business decision they take leads them to further prosperity. In this article, we will take a look at why Corporate Finance Consulting Services are
so important and how KGRN helps you with the same.
What is Corporate Finance Consulting?
Corporate Finance Consulting refers to every service provided with an aim to aid in the decision-making process of a business. Whether it be mergers, acquisitions, a new product launch or adding new services Corporate Finance Consulting ensures that every step you take
is in the right direction, Corporate Finance Consulting services also help in ensuring that all your decisions are in accordance with your business goals and objectives. Aligning present-day decisions with your overall company goals will help you achieve all your goals on time with ease.
For enquiries, call +971 45 570 204 / E-mail: support@kgrnaudit.com
Benefits of Corporate Finance Consulting in UAE: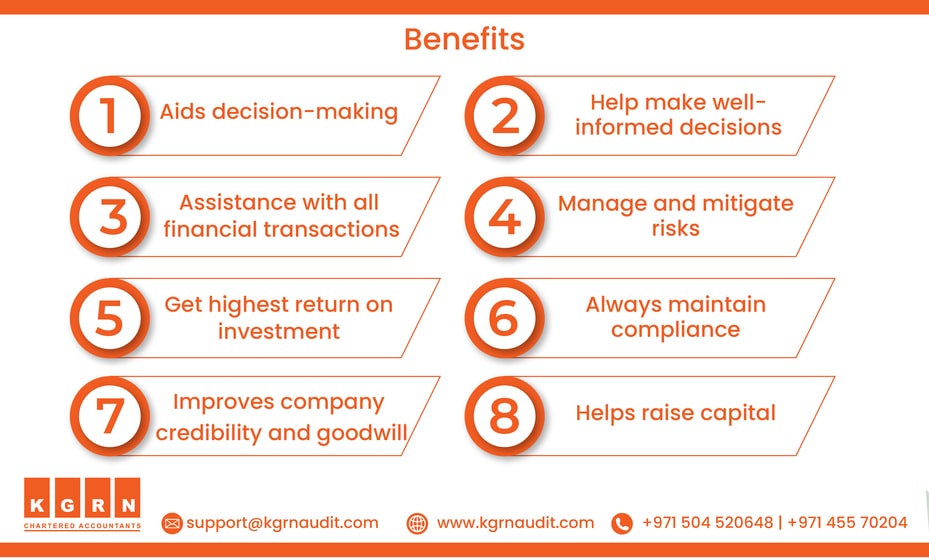 1. Aids your decision-making, helping you make well-informed decisions
2. Assist with regards to all financial transactions and deals
3. Manage and mitigate your risks to ensure that you gain the highest return on investment possible
4. Help with maintaining compliance at all times
5. Improves the credibility, transparency and goodwill associated with your business.
6. Helps with gaining capital from foreign investors and other prominent creditors
7. Enables capital and company restructuring to improve efficiency and remove redundancies
For enquiries, call +971 45 570 204 / E-mail: support@kgrnaudit.com
Steps Involved in Corporate Finance Consulting in UAE: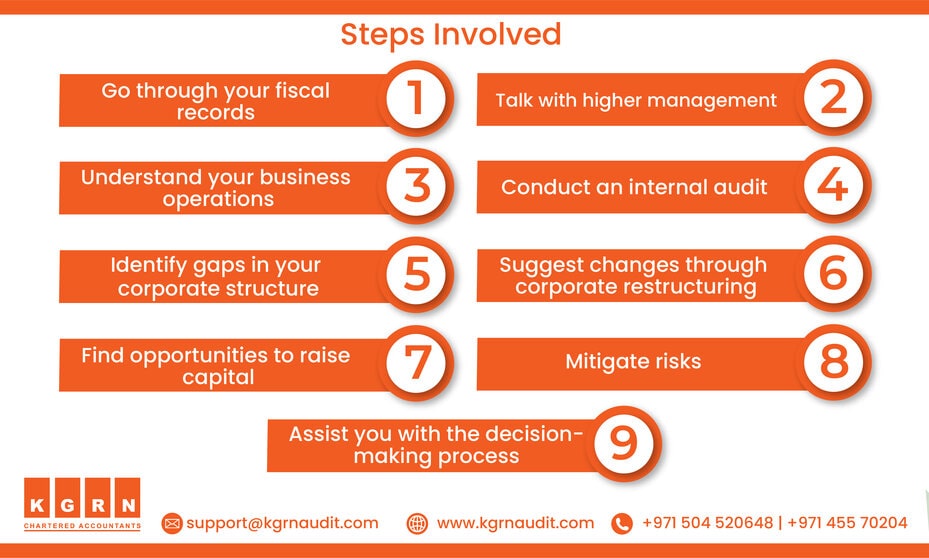 Here's a look at the steps involved in Corporate Finance Consulting in UAE;
1. First and foremost, the team will go through your fiscal records and talk with higher levels of management.
2. Once the team has a working understanding of your business operations, they will conduct an internal audit of sorts to gain a deeper understanding.
3. This will help them identify gaps in your existing corporate structure.
4. The team will then go and make changes to the system through corporate restructuring
to enable you to offer more efficient services.
5. They will also find opportunities for you to raise capital and help you with doing the same.
6. The team will also provide unbiased and independent advice regarding essential financial matters.
7. Lastly, the team will fo all it takes to mitigate risks and assist you with every step of the decision-making process, enabling you to make the best, most well-informed decisions.
For enquiries, call +971 45 570 204 / E-mail: support@kgrnaudit.com
KGRN Corporate Finance Consulting Services in UAE:
KGRN is one of the most renowned Audit, Accountancy and Business Consultancy firms in the UAE. Therefore, our experts have the experience required to ensure that you make the best decisions by leveraging the right kind of information. Furthermore, our team can also guide you on all matters to do with risk analysis to ensure that you minimize your risks and maximize
returns on every business deal you make. KGRN also provides timely and efficient service, ensuring your company maintains the highest levels of efficiency possible.
Here is a quick look at the Corporate Finance Consulting Services offered by KGRN in UAE
1. Our team will offer the most well-informed and unbiased advice on financial matters.
2. We help you raise capital from credible investors via equity or debt
3. Our connections will also help you provide solutions regarding how to restructure your capital.
4. We help eliminate all possibilities of conflict of interest.
5. Provide you with the best Feasibility reports and financial accounting reports.
For enquiries, call +971 45 570 204 / E-mail: support@kgrnaudit.com
Why KGRN?
● Our team will be able to aid your decision-making process in an efficient and unbiased manner.
● We offer adaptable and flexible services that will help you with all your legal requirements
● We maintain a high level of privacy regarding your details
● Full-time access to all our experienced staff
● Mitigate risks and ensure you receive the highest returns by working with us.
● We provide the most competitive process to ensure that companies of all sizes can make use of our service.
For enquiries, call +971 45 570 204 / E-mail: support@kgrnaudit.com