Dubai has several Free Zones, being one of UAE's top commercial areas and home to thousands of businesses. Free Zones are special areas within Dubai, each having a specific economic purpose. Are you planning on setting up a Free Zone business in Dubai? Here's a quick look at how Dubai Free Zone Business Setup works, and how KGRN can help you with the same.
What is Dubai Free Zone Business Setup?

Since becoming an international business hub, the UAE government has been trying to improve the influx of foreign investments. To make it easier to attract such investment and create a viable and robust economy, they set up several Free Zones within Dubai. Such areas provide
investors and entrepreneurs with several lucrative offers and incentives, making it easier to set up a business in Dubai. Read more on Freezone Business Setup in Dubai.
Dubai Free Zone Business Setup is essentially the process that entrepreneurs have to follow to register their business within the country legally. The Free Zone Authority handles the process of registration and regulation within the Free Zones, providing business licenses to such
establishments. Here's a quick look at the most popular Free Zones in Dubai;
Jebel Ali Free Zone
Dubai Multi Commodity Center (DMCC)
Dubai Airport Free Zone
Dubai International Finance Center (DIFC)
Dubai Academic City
Benefits of Dubai Free Zone Business Setup Services in the UAE:
Provides entrepreneurs and investors with a sea of business opportunities
An appealing tax regime that offers several benefits and incentives to new businesses
Business-friendly and flexible government policies that aid in growth and expansion
Gives your company credibility and builds trustworthiness
Allows you to reach out to more creditors and investors and secure more funding
Steps Involved in Dubai Free Zone Business Setup in UAE:
First and foremost, the entrepreneur needs to figure out what type of Dubai Free Zone business setup they need. The following types of entities may be set up within Free Zones in Dubai.
Free Zone Establishment – Company registration requires only one individual.
Free Zone Company – Company registration requires two or more stakeholders, who may be an individual or a corporation.
Branch Office – Company that already exists within the UAE or in a foreign nation may open a branch of its business within Dubai Free Zones.
Once they know the type of entity they want to set up, they must decide on what business activity they will pursue. This is integral to a Dubai Free Zone business set up as the company must apply for the right kind of license based on this.
Next, the team must find a suitable Free Zone after considering their business type and activity.
The team now has to find the perfect name for their company. Before finalizing their name, they must check to ensure there is no prior trademark on the name and that it complies with Dubai naming laws.
Next, they must get all the documents required and fill out the application forms to obtain the appropriate trade license.
Now, the company may file for incorporation by paying the prescribed fees and submitting the required application and supporting documents.
Lastly, the company can open a corporate bank account within Dubai to engage in their commercial activities.
KGRN Dubai Free Zone Business Setup Services in the UAE: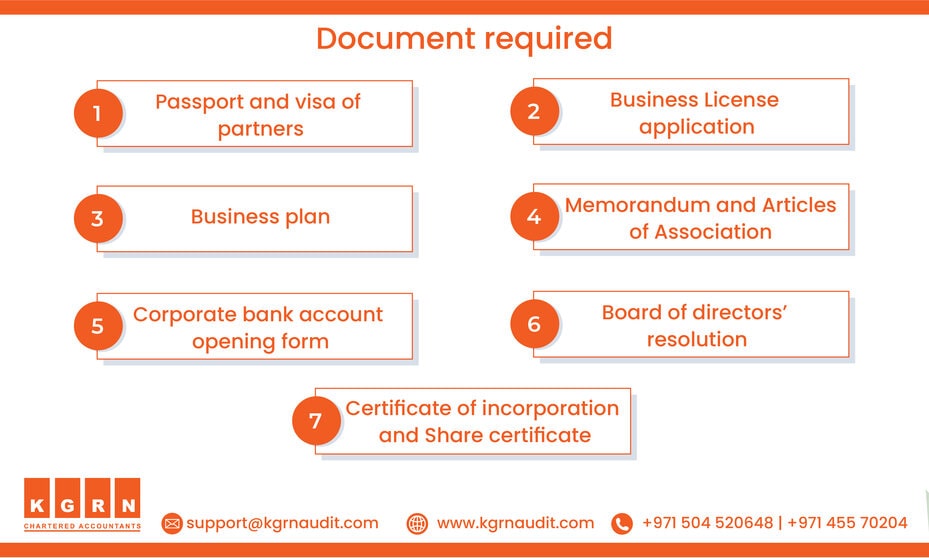 KGRN is one of the most renowned Audit, Accountancy and Business Consultancy firms in the UAE. Therefore, our experts have the experience required to ensure that your company starts functioning as quickly as possible. Our team will help you make the best decisions with regards to which Free zone to choose and what licenses to obtain. Furthermore, our team can guide you regarding risk analysis to ensure that you minimize your risks and maximize returns. KGRN also provides timely and efficient service, ensuring your company retains control over its data at all times.
For enquiries, call +971 45 570 204 / E-mail: support@kgrnaudit.com
Why KGRN?
We offer adaptable and flexible services that will help you with all your legal requirements
We maintain a high level of privacy regarding your details
Full-time access to all our experienced staff
We provide the most competitive process to ensure that companies of all sizes can make use of our service.
Our team offers a quick and easy setup process to ensure your company is up and running as quickly as possible. The Dubai airport-free zone spans over a vast area of 696,000 sq. km and houses more than 1600 companies and industries.
Related Resources: